1990s
2 for the Price of 1 was occasionally played for a car. (10/7/93)
"And the total is?...Technical malfunction." (12/2/93)
Friday the 13th paid a visit to TPIR for this moment. (9/13/91)
Cover Up has always been one of my favourite games. The game takes a great deal of help from the audience. (4/15/97)
Dian models off this very alluring gown for an IUFB with a really neat green screen effect. (2/25/93)
Double overbids are always painful, especially when both contestants are over by less than $600! (10/17/94)
Golden Road always offers such exquisite vehicles such as this $61K+ Cadillac Allanté Convertible (2/19/93)
Grand Game wins are always exciting. (9/9/91, 10/18/94, 11/17/97)
Perhaps one of Holly's most memorable bloopers, the dummy's pants fell down while she danced with him modelling the jukebox. She didn't realize it at first for a few seconds then laughed along with the audience. (2/22/93)
During the 20th Anniversary week the show aired clips of moments from the past, such as this one when Janice modeled a freezer that was loaded with a bit too much food.
Bob gets lost in a sea of purple as this contestant's friends come up to congratulate her on her big win. (11/9/93)
Perfect One Away playings are a rarity. Here this contestant said she was having heart palpitations. (10/20/97)
"Lana, Jacqueline can't concentrate because her hair has fallen on one side." Bob calls the hairstylist Lana to give the contestant a quick touch up. (10/14/94)
$25,000+ was expensive back in 1997 and today equals about $33K. (5/19/97)
Audrey had set the number at 1429 and it began trickling down by one on its own. "You know, this is scary. I don't wanna stand next to this thing!" (10/21/97)
One of Magic #'s earliest playings where a different split screen was used. (11/2/92)
Money Game's current board debuted the second episode of the 20th season and even still was compatible for four digit vehicles as seen in 1993. (9/10/91, 5/17/93)
"Show me the money!" "I will but first we have to ooooooooooooooooh!" (5/21/97)
This Things for the Debutante Showcase featured two cars, a rarity for a showcase. (2/5/97)
Fan favourite pricing game Bump as seen during the 20th anniversary week. (9/12/91)
Buy or Sell went through various set placements during it's early run, including this very odd one from February 1993. (2/23/93)
Did someone actually win the $25,000 in Plinko? Nope. During most of Season 21 an on-screen graphic was used in place of the sign. (5/26/93)
Talk about a close call!
A very fun showcase, Rappin' Roddy, from May 1993. (5/14/93)
Another fun showcase, featuring lava lamps, a water bed and a minivan, from January 1997. (1/15/97)
Split Decision is actually one of my all time favourite pricing games. Even though it looks rather stressful and confusing to play it can be fun to watch. Here it is on its final playing January 1997 and it did not go well at all. (1/16/97)
It was a rare surprise when Squeeze Play was played for a car. (3/22/93)
Apparently $uper $aver has been known to display 'WINK' or 'LOSK' during its run but this here is something else. The camera actually never showed the board again after her second purchase. (2/26/93)
This blooper was edited out unfortunately but its still silly. See if you can point it out! (5/20/93)
Bob commented "How many bodies are you shampooing?" after Susan gave her guess for the body shampoo. Little did Bob know she would only be off the total by $0.19! (4/15/97)
Swap Meet's very first playing! September 9, 1991. (9/9/91)
One of the last (if not the very last) times Temptation was played for a four digit vehicle. (2/26/93)
One of the later playings of 3 Strikes under it's four digit version. (2/2/93)
Something isn't right here. (The actual price was $39,876) (2/11/97)
If a contestant was having a difficult time remembering where what number doesn't go Bob likes to joke "Are we sure we have the right numbers?" (12/8/93)
A true once-in-a-blue moon moment here from early in Season 23. (9/23/94)
The odd time a contestant will think a car is more expensive than it actually is and lo and behold, the last two numbers are found first! (4/15/97)
Two outstanding Card Game differences, one from 1992 and one from 1993 with only one card drawn! (11/11/92, 2/19/93)
Beverly goes to spin the wheel on the opposite side. "Can you believe this? A seemingly alert young woman needs a guide for the wheel!" (5/11/93)
Buy or Sell was one of my favourite games. Seen here is the day it premiered with rather unusual staging. (3/27/92 R)
One of the more interesting and short lived pricing games Gallery Game, seen here being played for a dune buggy in October 1990 (10/25/90)
Bob neglected to hand over Kristina's $100 bonus during Gallery Game so Roger called him on it and he paid up. (10/25/90)
Whoops! Seems whoever was in charge lit up the wrong number in Pathfinder giving Vincent an advantage. However being the honourable man he is he did not look back. The audience were screaming for him to step to the 6 for the fourth number, which he did. (3/27/92 R)
Here's a rarity. Not only was Split Decision played properly, it was won on the first try! (12/22/95)
A contestant's fiancé rushes onto the stage to congratulate her on winning a new Corvette (12/1/92)
"I tell you, you stepped on my toe so badly that time. This game is more dangerous than I realized. That child...I'll never walk on that left foot again." (1/26/96)
Perhaps one of the most memorable moments on the show. Contestant Bryan gave back $5,000 and ended up winning $10,000 on Punch-a-Bunch. (1/26/96)
Uhm...someone has some explaining to do. Are we playing Grocery Game or Shell Game here? (4/5/91)
Make Your Move seems to be having some issues with the lights today. "One of the reindeer must have been stepping on the wires." (12/24/93)
The infamous Pathfinder cheater, Ben went to put his foot on the nine and quickly took his foot off to see if it would light up (which it did) and pretended to lose his balance over it. He goes onto Santa's naughty list for a move like that. (12/1/92)
Melody Thomas Scott and Peter Bergman came to the set to announce a special bonus for The Young and the Restless 5000th episode tribute showcase. An opportunity to appear as an extra on the show! (12/1/92)
Poor Aline spun herself right into the floor and flipped her lid! (1/14/92)
A good example of how not to play Secret X. The contestant placed her free X right in the middle and then thought she could get three in a row down the left column, even though Bob specifically said she had to win with the secret X. (4/27/99)
Carol Burnett paid a visit to her old stomping grounds before PG6 and even asked Rod Roddy to call down the next contestant. (5/26/92)
It might be hard to tell from the picture but this lucky contestant nailed the price of the last prize on the very last second! (1/27/95)
A well known moment, Janice and Bob try out a Crocodile Dentist game to demonstrate how it works. Bob ends up picking the tooth that ultimately bites his finger. (11/30/93)
Perhaps one of the funniest playings ever to befall Danger Price. First, Holly nearly stumbles modelling an exerciser in high heels, then when the contestant makes her first choice, the stop sign gets stuck and doesn't turn! The contestant then makes her third choice but before doing so, asks Bob about one of the prizes. Not hearing her correctly, Bob thinks she's made her choice and Janice pushes said button. Mae grabs onto Bob and shakes him about just in time for Janice to stop the stop sign from revealing the price. (1/20/94)
Early on in Swap Meet's exsistance, they used a Most Expensive style of price reveal. The Season Premiere was actually taped after this when it had it's more traditional price tag placements. (9/27/91)
Edie has a chance to win a showcase with two trucks! She decides to go with her birthday number and bid $38,000. The crowd strongly voices their opinion against it so she knocks it down to $24,000 much to the crowd's pleasing. Bob reads her ARP: $38,569! Lucky for her her opponent overbid so she wins anyways. (12/3/91)
This may look like a typical early 90s minivan, but it was part of a showcase that included a rather primitive laptop computer and the van itself had a trip computer, all totalling well over $30,000! (5/19/92)
A typical Any Number reveal goes awry. As the appliances were lowered from the ceiling the prop hit the floor and the appliances fell off and startled Holly. (1/20/92)
Super Ball!! was a much loved game by fans, but it took up a great deal of show time. Here it is on it's last playing, being played for a car, and to boot, the contestant landed his Super Ball in the win circle. What a way to go out! (1/12/98)
This might be one the earliest appearances of the 'star font' used in the Showcase Showdown up until Bob's last season. Here it's seen jazzed up quite a bit more than what would become the norm. (11/19/92)
"It had to happen again!" Janice drove out a minivan for Lucky $even during the Season 26 premiere when she got the van's sliding door caught on the turntable wall and knocked it clear off it's track! (9/8/97)
After missing the past couple putts, Bob has Janice perform the inspirational putt. Seeing that she hit the ball off to the left of the cup, Janice stands up to apologize. As she does, for whatever reason, the ball changes direction and rolls right into the cup! After commercial Bob and Janice watch the replay on the monitor so Janice can see her miraculous putt. (12/2/91)
Most likely due to a mix of inflation and the fact that nobody in Season 26 had won both showcases and Season 25 produced only one Double Showcase Winner, the beginning of Season 27 saw a rule change that upped the range from less that $100 to $250 or less. Seen here is the lucky first DSW of Season 27, $246 away! (11/12/98)
A staple on the show for many, many years, Jeran gowns had been offered as prizes and have been used for the models' outfits. Anytime one of their gowns was going to make an appearance as a prize, Jerry Skeels & Randy McLaughlin were in the audience. Sadly, Jerry passed away in 2003 and Randy passed in 2013. (1/21/93)
Contestant June Marie spends the entire show down in contestants row. She makes it on stage at the last possible moment and makes quite the impressive comeback! (11/19/98)
The Eazy Az 1-2-3 prop gets stuck so Bob instructs Kathleen to do what he has done in such an event: kick it! (4/27/99)
A rather unique DSW graphic, it's only known to be used on one occasion. (5/10/96)
The actual retail price is $1,300! Mary joins Bob on stage and collects her $100 bonus, but the camera is zoomed in on Tina and her podium with a flashing bid of $1,350. Rod alerts him of the mistake, Mary returns her $100 bonus which is then given to Tina. Feeling bad for his blooper, Bob instructs Roger to get a $100 bill for Mary. Later on in the show, Mary makes a legitimate perfect bid and receives a SECOND $100 bonus. (11/6/92)
One of the closest showcase differences ever! (2/3/94)
The rarest of rare feats, a perfect Ten Chances playing! It's even rare nowadays to see someone actually play this game properly (3/24/99)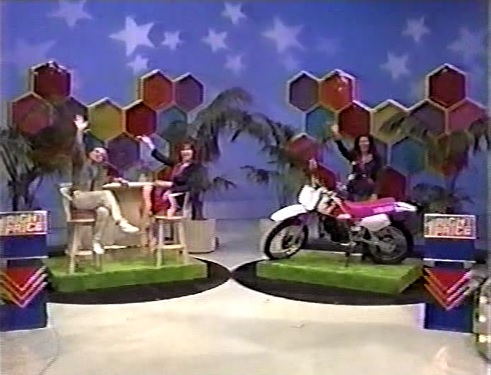 Host of Family Feud Ray Combs drops by and helps to model some prizes. (6/3/92)
The only DSW of Season 25 as well as the last under the 'less than $100 rule'. (3/4/97)
A true rarity, all five prizes won in Switcheroo! (5/24/93)
Teri spun her face right into the wheel and got hit by one of the handles. No harm done, she was even laughing about it. (6/3/92)
The only time in the history of the show that three out of the first four contestants never made it out of contestants row. (3/26/92)
Three way ties are uncommon, but it's even more exciting when all of them spin 1.00 (1/21/93)
Contestant Ruth teaches the other two contestants how to do the 'tush push' before the Showcase Showdown (1/17/95)
A fabulous Christmas Day Showcase complete with two new cars! (12/25/92)
Very petite Van is scarier than she looks! She can't keep her hands off Bob, hugging him and pinching him and shaking him about to the point Bob had to go sit on the turntable steps once he was able to get loose from her grasp. (6/3/92)